On April 11, 1906, sixty Jewish families moved north from nearby Jaffa to the sand dunes of the Mediterranean to established a new community.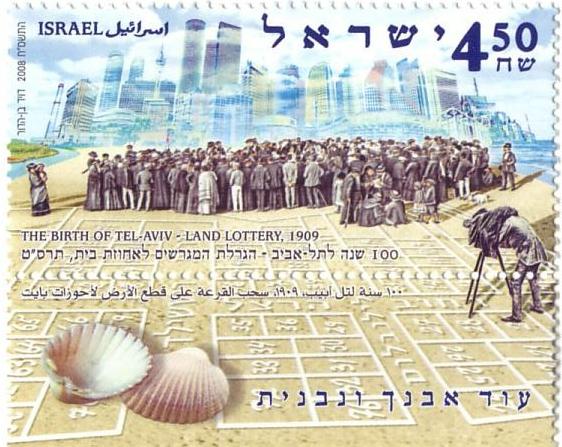 A lottery was held to pair families with a building plot. Using sixty white shells imprinted with each family's name and sixty grey shells each showing the number of a single building lot, the land was was fairly divided. This was the founding of Tel Aviv.
Yanay, my tour guide, was a wonderful teacher, very passionate about Israel and his Jewish roots. He told us that Israel was a miracle and he did an excellent job telling us why.
He took us to the Founders Monument that depicted the history of Tel Aviv. I loved this piece of art because it showed clearly a layering of history, how events can build on each and bring about progress.
A the bottom of the picture was nature. The Jewish religion had moved away from the polytheistic traditions of early religions that had different nature gods and goddesses in multiple locations. In monotheistic Judaism, there was loyalty to Yahweh and a promise of good results from doing what was right, following traditions and Jewish law, valuing justice, and working together on common goals. The communal hard work of the founders of Tel Aviv was shown in the second tier of this sculpture. The next layer showed the first water tower and the Herzliya School, the first Hebrew school in Israel. Yanay pointed out that it was very important for the Hebrew language to be established as the language of Israel. At the top of this pictorial history were renditions of the modern cultural buildings in Tel Aviv and in the background there were imaginative representations of buildings of the future.
Sir Patrick Geddes, a Scottish pioneer in the area of town planning was invited to lay out the plan for the Hebrew school. He went further and drew up a plan for the whole Tel Aviv area. In 1920 there were 2000 people in the settlement. By the end of the1920's, 40,000 people came to live in this new vibrate Jewish community.
During my time in Israel, I felt a different vibe than I had felt in other countries or even in my own US. Culture is defined as "the customs, arts, social institutions, and achievements of a particular nation, people, or other social group". The culture in Israel seemed to be based on optimism, unity, and common goals. This clarity of purpose seemed to be moving their country toward positive action and continuous progress.
We have so many problems in the US. I heard about two shootings in the States while I was in Israel. I'm sure Israel has its faults. But my time in Israel made me really wonder if America has a cultural problem. We are a country that judges people on their wealth, not their character. Greed and the need for power seems to be national norms. We live in a place of name calling and bullying. Our government is getting nothing done. We, as American citizens, no longer share a common destiny as we scurry into our special interest groups so we can look down on those who don't belong. Our health, both physically and mentally, is being affected as we feel the weight of our nation's continuous fighting and bickering.
I don't know what the solution is. My purpose in writing this blog is to tell about the things I see and feel on my trips. I needed to write about this because unfortunately the contrast was so very strong and disturbing.
Copyright @ 2019 The Autonomous Traveler All rights reserved.